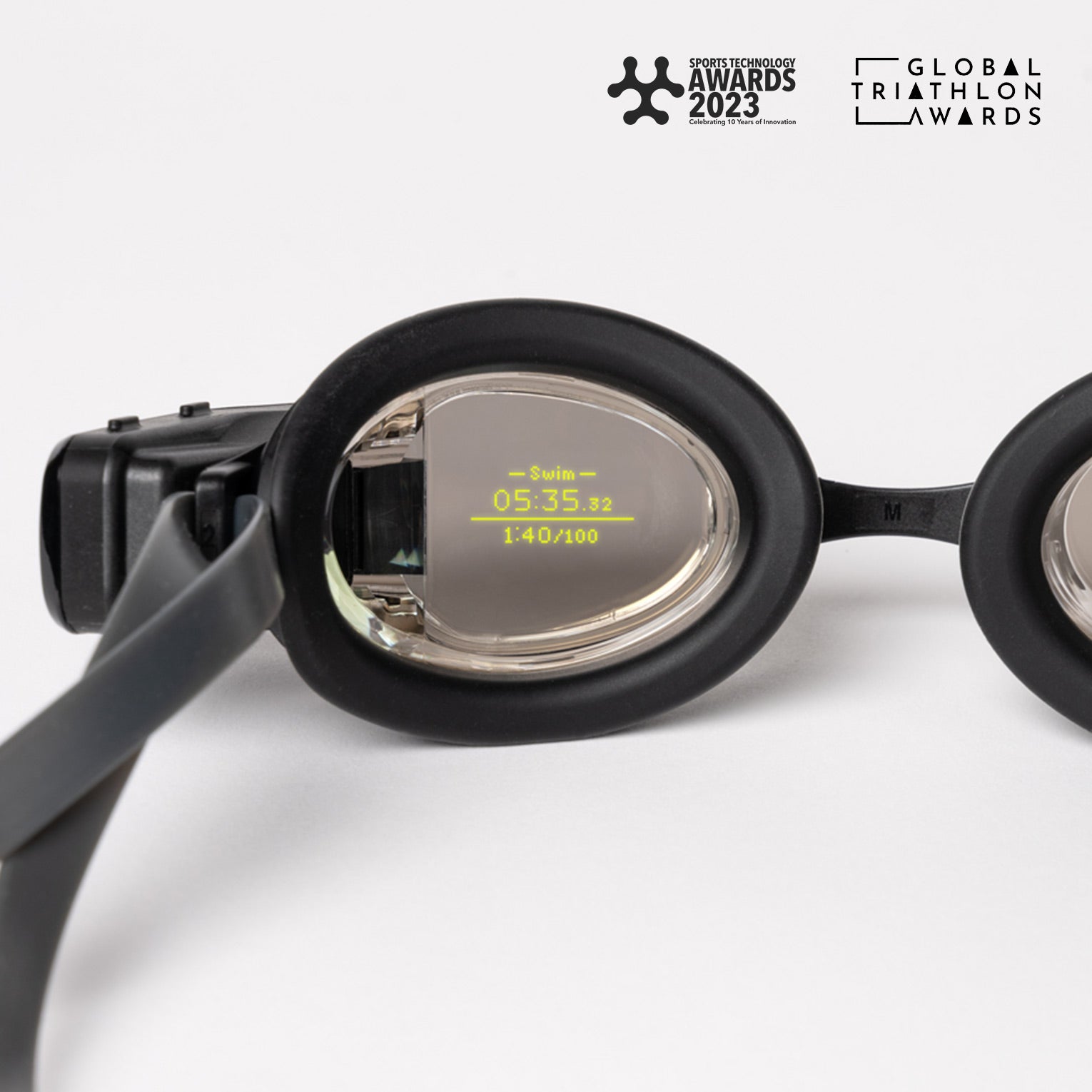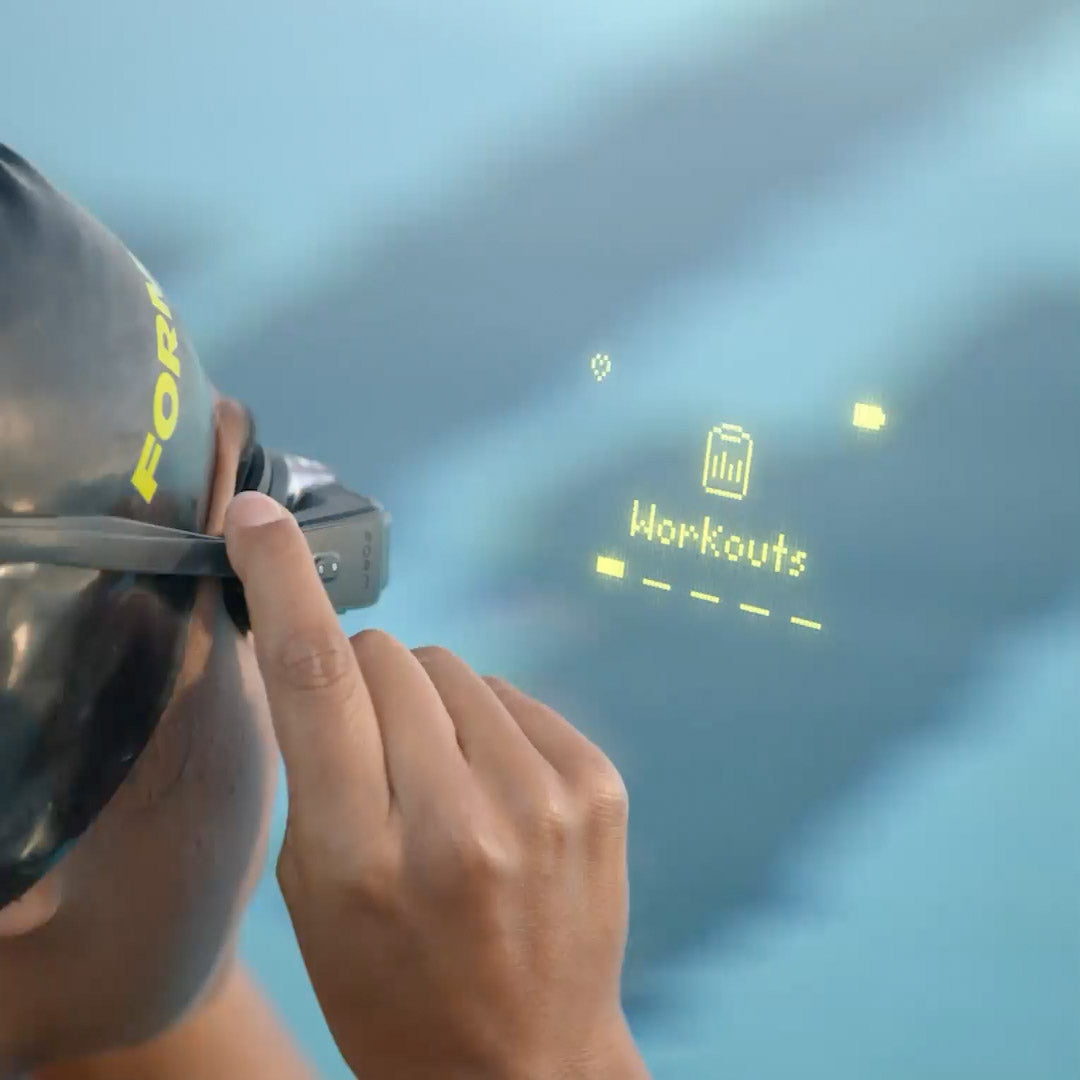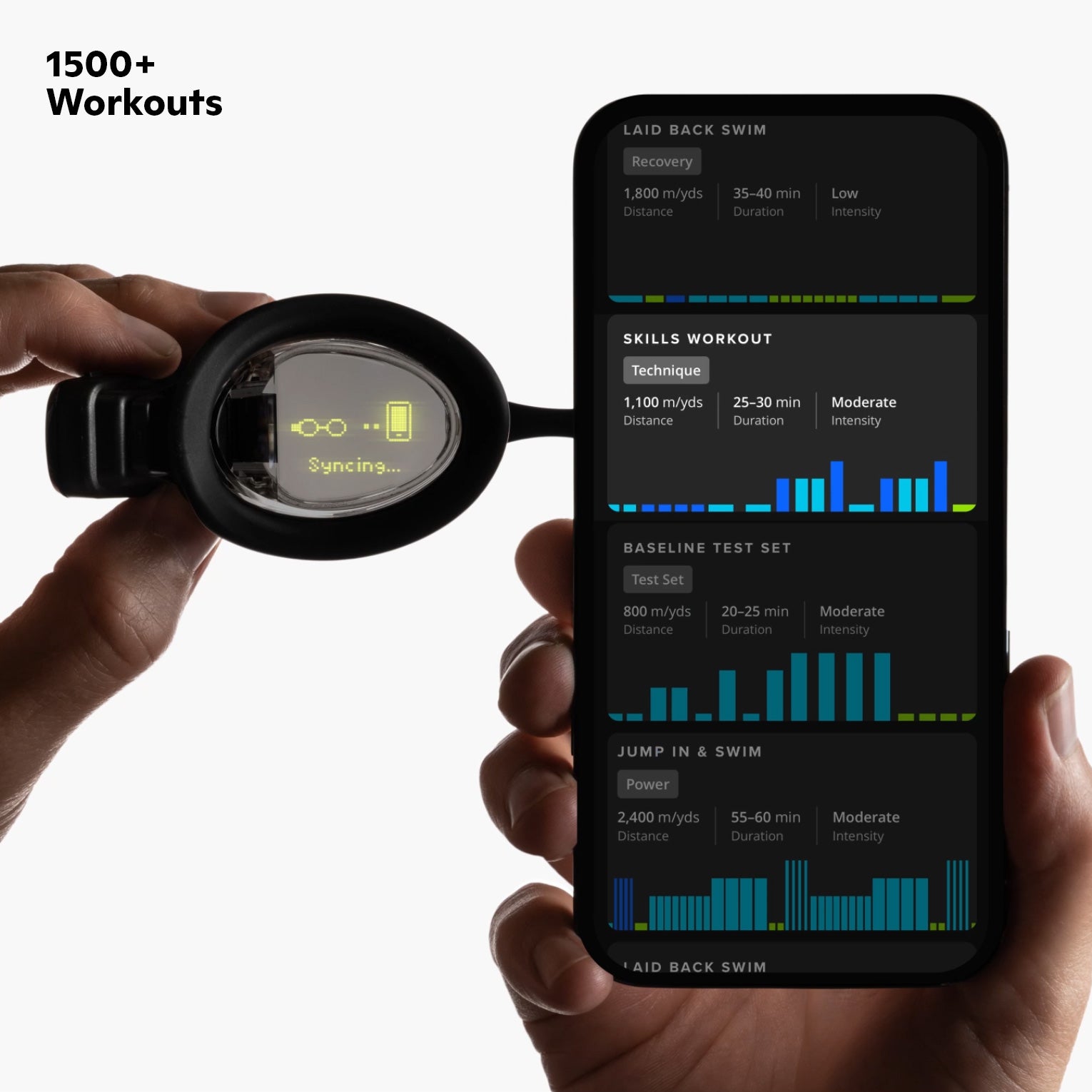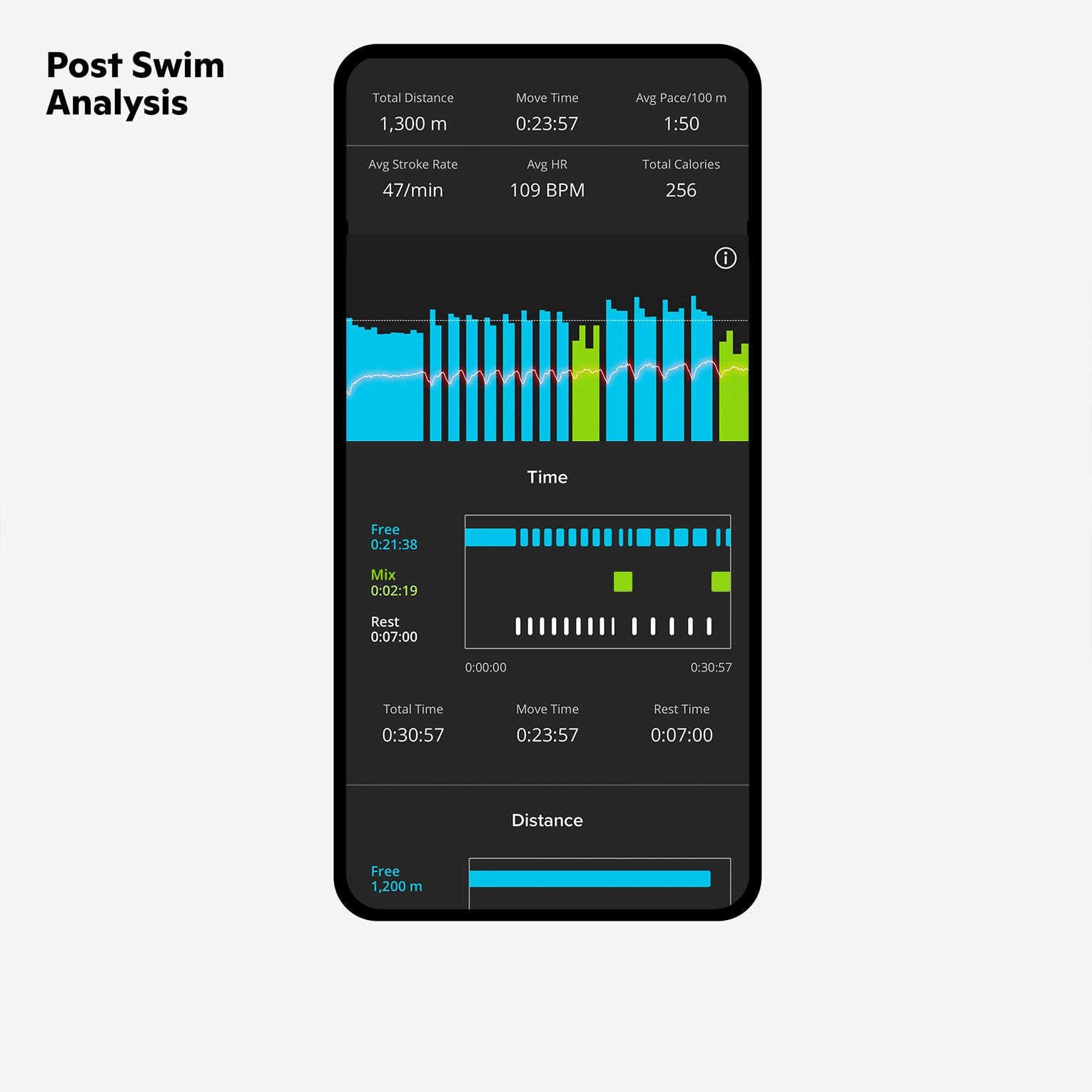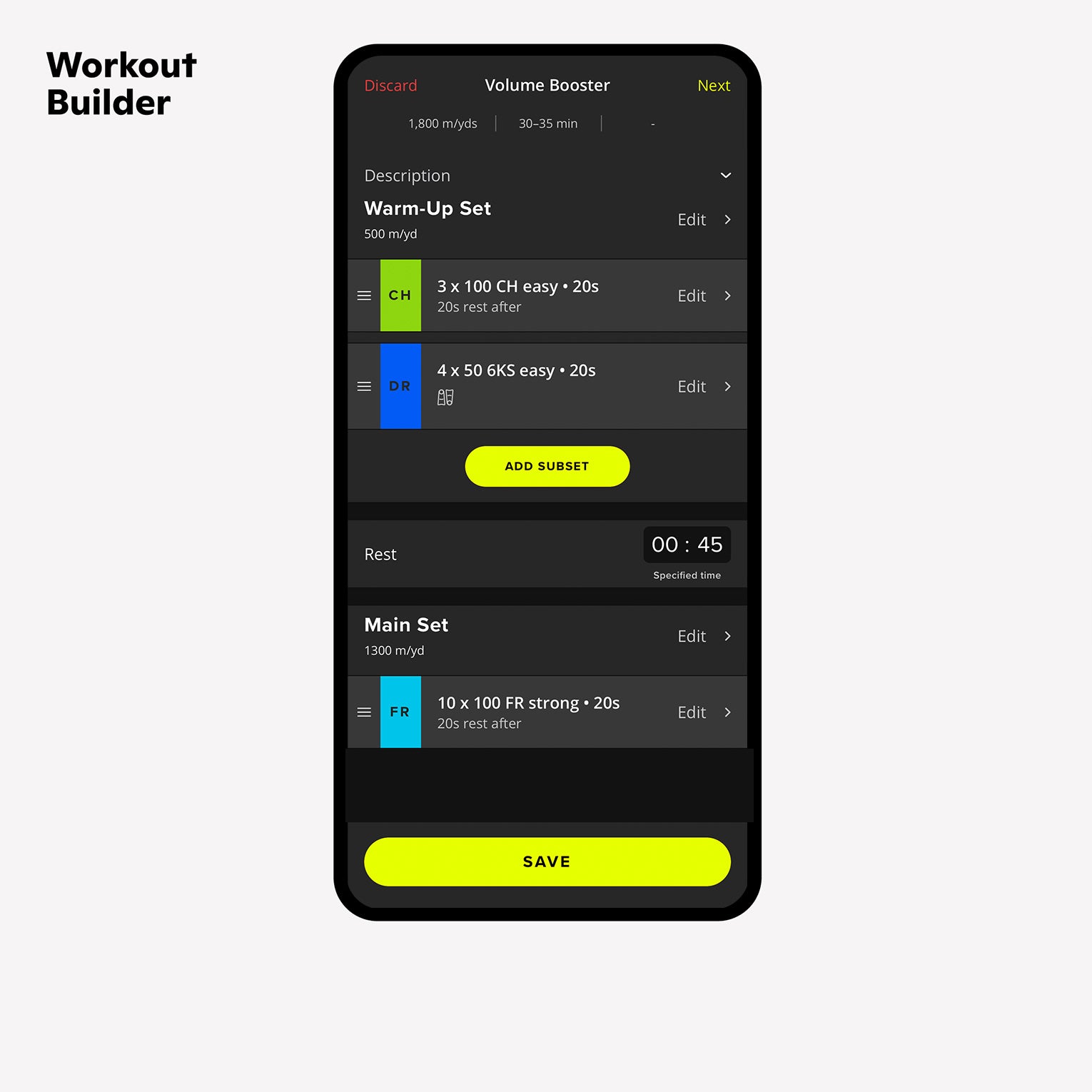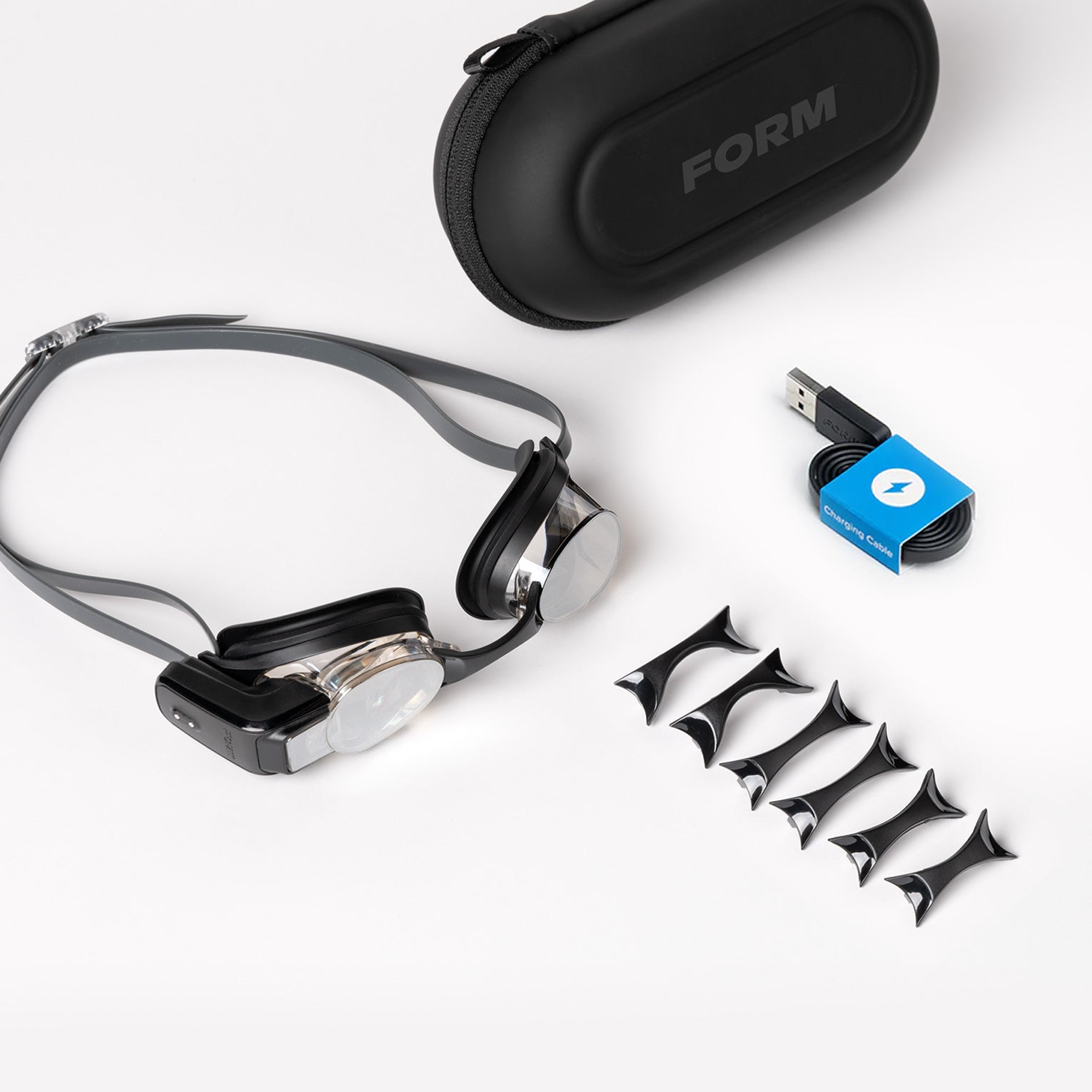 The only goggle with a patented AR display and motion sensors. Unlock the power of data to improve your swimming and shave seconds off your pace.
See 9 real-time metrics like pace/100m, stroke rate and split times
Track pool and open water swims
Automatically sync swims to the app for detailed post swim analysis
Get the most from FORM with Premium Features (free 1-year trial, £13/mo after):

1500+ workouts with instructions in your goggles
30+ training plans covering a variety of tri distances and technique areas
TrainingPeaks integration, import your workouts
Workout builder, create your own workouts
Premium can be cancelled at anytime. Without Premium, you'll still have access to real-time metrics in your goggles and post-swim analysis in the app.
30-Day Returns

Free Shipping

2-Year Warranty
FAQ
Can I buy the goggles without a membership?
As an added bonus, every goggle purchase includes a free 1-year membership with 1,000+ guided workouts, 30+ training plans, and a custom workout builder. We've intentionally created each feature with every swimmer in mind, so there truly is something for everyone.
What is the price of a membership?
Your first year of membership is on us when you buy a pair of goggles. After that, your membership auto-renews at £13/month. If you want to take a break, you can cancel at any time.
Can I use the goggles if I cancel my membership?
If you don't renew your membership after your free year, you'll still have access to real-time metrics in your goggles, the app, post-swim analysis, the swim community, and a variety of sample workouts.
What happens when my free 1-year membership expires?
Keep the swim improvements going. Your membership auto-renews at £13/month. If you want to take a break, you have the flexibility to cancel your membership at any time.

Received the goggles and membership as a gift? You'll need to add your payment details to set up your auto-renew membership.
What happens if I need to replace my goggles?
FORM goggles were built to last, which is why we offer a 2-year warranty on every purchase. If the time comes to replace your goggles outside of the warranty, all active members can purchase a new pair at 50% off. This offer is only available to active members for one pair of goggles per year.
How do I purchase the goggles as a gift?
On our website, select 'Shop Now' and choose "Buy As a Gift". Once the recipient pairs the goggles, their free 1-year membership will activate automatically.
Can I return a gift?
Just in case you're not blown away, we're offering 30-day returns of the ship date.

Gift returns will be issued to the original purchaser and payment method within 1-2 business days after receiving the product.
Can I replace my goggles if they're lost or stolen?
If something happens to your goggles and you're an active member, you can replace your goggles at 50% off. Once you purchase your new goggles, the old pair will still have activity tracking available. Either pair can be synced to your membership.

Winner of the 2023 Sports Technology Award - Best wearable. Based on FORM's technology advantage over potential competitors includes patented AI/ML technology, industry-leading waveguide display built right into the goggle lens, and a world-class goggle design.
Winner of the 2023 Global Triathlon Award - Best Swim Product. The winner of this award is chosen based on a product that is innovative, solves a problem, and is a great experience for all triathletes. The Global Triathlon Awards recognize and celebrate those involved in the production and development of the world's best sport.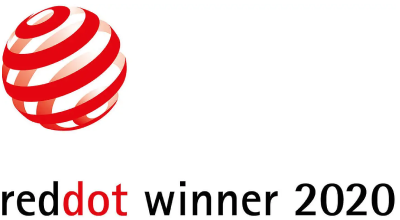 An international product design award introduced in Germany in 1955. Today, there are over 15,000 global submissions and it is considered a premiere design award for Industrial Designers.
Red Dot has 3 museums: Essen, Germany; Singapore; and Xiamen, China. Our product is on display at the Essen location.
An international product design award introduced in Germany in 1954. Today, this award gathers more than 5,500 entries from around the world and is renowned in the Industrial Design community.
A new award presented by the German Design Council to showcase world innovation in technology.
Every year, the Munich ISPO Trade Show honors the top 50 new sports brands and gives them the opportunity to have a booth to showcase their new products. In 2020, we attended to accept the Selected Brand Award and to show the world what we've built.
GET FASTER. FAST.
Train with data and see yourself improve.
THE METRICS YOU NEED
TO IMPROVE
For the first time ever in swimming, see your metrics in the moment and understand how you are performing.
Tracked Metrics
In Pool
Open Water & Swim Spa
Pace is the average time it takes you to swim 100m.
Seeing your pace lap-by-lap lets you know how you are performing in the moment, and motivates you to hit the goal you've been aiming for.
Open Water: Average pace for your workout  is available when paired with a compatible Apple or Garmin Watch. Using average pace in open water you'll stay on track and hit your target time.
Swim Spa: Only available in partner swim spas.
Measured in the number of strokes you take in a minute (SPM) your stroke rate is the equivalent of RPM on a bike.
This metric is updated every 1.5 seconds, enabling you to understand your output and keep a consistent speed. Keep it steady, and don't burn out.
The number of arm strokes you take in a single length of the pool.
Swimming with stroke count allows you to gauge your technique. The fewer strokes you take, the more efficient you are in the water. A reduced stroke count + increased stroke rate = Better speed.
The distance in meters you travel with each stroke.
This technique-focused metric allows you to prioritize the efficiency of each stroke.
Maintain a consistent pace by knowing how long it takes to swim each length.
Track your moving and resting time automatically; no more pushing buttons as you hit the wall. Focus solely on your swim without distractions, and make the most of every lap.
Forget counting laps, see your distance (meters or yards) as you swim.

Open Water: Available when paired with a compatible Apple or Garmin Watch.
Track calories burned while you swim and see the total amount when you're done.
Stay in the right zone and track your heart rate in real-time. You'll need a compatible Polar sensor (sold separately - Polar Verity Sense or OH1/OH1 +).
Open Water: You can also see a real-time heart rate when connected to a compatible Apple or Garmin Watch.
PREMIUM FEATURES
Forget the planning, soggy paper, or memorizing workouts. Just show up to the pool and swim.
KRISTIAN BLUMMENFELT

"FORM makes it easy to get an understanding of what's going on, during a session. This is a crucial part of training, and it's why I trust FORM to power my swim training."

GUSTAV IDEN

"​​One of the reasons I've always performed better on the bike and in a run is the constant feedback. Now I can get that data in the water, and optimize my effort and intensity."

SKYE MOENCH

"The FORM goggles are simply my favourite tool in the water. They engage me during the swim and push me to go harder."

AARON ROYLE

"I am genuinely blown away by what you can see and do with the technology. It's a game changer, similar to when the power meter was introduced in cycling."

LIONEL SANDERS

"The FORM goggles are the single best training aid to come to swimming, and I can't imagine doing another swim without them!"

EMMA PALLANT-BROWNE

"Having the feedback displayed in front of me in real time gives me more motivation and really improved my swimming this year."
FAQ
Your access to Premium Features auto-renews at £13/month. If you cancel, you will have access to:
In-goggle real-time metrics
Activity tracking (pool / open water / swim spa)
Post-swim analysis (in-app)
Smartwatch connectivity for open water GPS tracking (Apple & Garmin)
Community features to connect & share swims
You have the flexibility to cancel and re-subscribe at any time. 
The goggles come with seven interchangeable nose bridges and adjustable straps so you can find the perfect fit.
Find a list of compatible smartwatches here.
If you have vision correction needs, the display can still be seen as it floats out in front of you and you don't need to focus on the metrics to read them. If your prescription is stronger than -2, you may have difficulty seeing the display, however users up to -3 have reported that the display is still visible for them. We recommend trying the goggles out for yourself - we have a 30 day return policy if they don't work out for whatever reason.